News
Subscribe to posts
Saturday June 17th.
The Cambridge-Oxford Owners Club achieved what many had thought impossible by gathering one example of each Pre-Farina Austin Cambridge and Westminster 'Project GS5' based vehicles at their unique celebration of the models at Longbridge on Saturday June 17th.
With 21 Pre-Farinas in attendance, including an ultra rare  A105 Vanden Plas, an A95 Countryman, and all three types of commercial (van, pick-up and SunTor camper), the club believe it to be the biggest gathering of these cars for many years, and certainly the biggest at the factory in which they were designed and developed since they were in production.
With the long-term future of Longbridge in doubt The COOC worked with Gemma Cartwright's Pride of Longbridge team to organise the event. Club Chairman Taff Gillingham explains, "We were keen to organise an event at the spiritual home of these cars while it's still possible, and through COOC committee member John Lakey, who lives in Birmingham, were able to work with the POL team to make this a community event and gain support from MG Motor to assemble the GS5 cars around the iconic factory Exhibition Hall where so many original press photographs were taken. In fact many club members were amazed and delighted to find that the room in which we had our buffet lunch and showed period GS5 Pre-Farina-themed films that have been preserved and restored by BMIHT was the very room in which the Mini had been launched".  
The club invited former workers from the factory to mingle with members and explain how the cars were made, and two apprentices who started at the plant when the cars were still being produced, Les Gammon (who arrived his restored Austin 7) and John Baker, presented the awards and cut the celebratory cake.
With over 50 club cars and other classics (including a 1938 Austin 12 New Ascot)  in attendance there was an enthusiastic audience for Longbridge historian, and former Austin Apprentice Tony Osborne's amusing tour and talk on Lord Austin's office, which is preserved in the Exhibition Hall, that he had to do three performances. Tony also ended the day's events with a fascinating illustrated talk about the history of the Longbridge factory, proving it was surely the most diverse of the UK's car plants. 
Saturday 17th June:  Rally at The Austin Factory, Longbridge, Birmingham
Sunday 18th June: Road Run to Ironbridge and Blists Hill Museum.
We are delighted to announce that we will be holding a special Pre-Farina celebration on the weekend of 17th-18th June.  
2017 sees the 60th anniversary of the 'facelift' Pre-Farina models,often known as 'long boots'; the A55, A95 and A105.
The Pre-Farina models were originally introduced in 1954 but, for various reasons, we didn't mark the anniversary with a major event so we will be making up for it this year.
All members will be welcome, no matter which club cars they own, but the focus will be on the Pre-Farina Austins with a special parking area set aside for them in front of the original Austin Design Building. 
(Non-members are also welcome to book-in but only if they are bringing a Pre-Farina vehicle)
We hope it will be the largest gathering of Pre-Farinas since the cars were in production! 
So far there has been a great deal of interest shown by Pre-Farina owners so we hope for a great turnout.
We are extremely pleased that we have been given permission to hold the show at one of the last remaining parts of the original Austin factory at Longbridge. The Cambridge-Oxford Owners Club was formed in 1980 but this will be the very first time in 37 years that the Club has held a rally actually within the grounds of one of the former BMC factories.
The rally site will be inside the famous Q Gate with its distinctive Art Deco style Exhibition Hall (now the Conference Centre), built in 1956; a building which many of you will recognise from period photographs of the factory. 
Many, many thanks to John Lakey and Gemma Cartwright, the organiser of 'Pride of Longbridge', who have arranged this for us with the current owners of the MG factory.
It will be a poignant event too as it is very likely that the whole site may well soon disappear under new housing or business developments so this will probably be the only time that we will get to stage a rally there. 
In addition to the rally parking area we will have access to the Conference Centre itself and the film theatre where we intend to screen several of the original BMC promotional films of the PreFarinas.
We will also be able to visit Lord Austin's Office, which looks exactly as it did when he died in1941. The future of the Office is uncertain if the building is demolished so, again, this will be a rare chance to visit it.
We also hope to hold a small exhibition of Pre-Farina related items and publicity material in the Conference Centre.
There will be a buffet lunch for all those members who have pre-booked any Club car (and for non-members who register their Pre-Farina). The buffet will be free but it is vital that you book in so that we know how many to cater for. We won't be able to cater for anyone turning up on the day.
We are hoping that we might have a Special Guest or two who were part of the production team working on the Pre-Farinas but time and their advanced age might mean that we won't be able to find anyone well enough to attend. 
The event will open at 10am and close at 4.30pm.
For those who would like to join us there will be an evening meal at a local pub or restaurant.
Again, please make sure that you state that you would like to attend on the booking form so that we can book enough places for you all.
On the Sunday there will be a Road Run to Ironbridge and Blists Hill Open Air Museum.
Anyone wishing to take part should meet back at the factory gates at 10am for a 10.30am start.
It will be a fantastic event which will really put the Pre-Farina vehicles in the limelight although all club cars will be very welcome to attend this event at their 'spiritual home'. 
Please book in as early as you can to help us with the planning. 
In order to guarantee your free buffet lunch, please make sure that we receive your booking NO LATER than Wednesday 17th May.
Images by kind permission of the British Motor Industry Heritage Trust at the British Motor Museum, Gaydon andshows Austin A95 Westminsters on the production lines at Longbridge in 1957.
The BMIHT Archive has done remarkable work over the last ten years digitising their extensive photographic collections which cover many BMC/BL marques such as Austin, Morris, MG, Riley and Wolseley plus other supplier companies like Lucas and Pressed Steel. You can find a wide selection of pictures at their online photo library www.motorgraphs.com. The range of images is impressive and dates back to the1890s. They document  the changing fashions as much as the cars and it's easy to spend a couple of hours just browsing. 
So if you fancy an original publicity picture in a frame on the lounge wall, you can buy it for a reasonable price directly from the website. All these images are
also available for licensing by contacting photo@britishmotormuseum.co.uk
Get them while they're hot!
The Cambridge-Oxford Owners Club were proud to work with Corgi models to produce this rare Deep Pink, Morris Oxford Series VI.
There was doubt if the colour combination ever existed until research from the COOC proved that it did!
The car is modelled on that of the father of COOC chief mechanic Steve Turner and there is a wonderful testimonial card about his car in the box.
This is a limited edition of 1300 models and available from good Corgi, Vanguards stockists - Ref: VA05408
The Federation of British Historic Vehicle Clubs is conducting an influential survey that could shape the future of classic car use and ownership in the UK.
We're encouraging everyone to complete this on-line questionnaire, which takes 10 to 15 minutes.
You'll be asked about your use and spending habits related to classic cars in 2015.
You may like to spend some time thinking about where you went and what you spent last year.
The survey only runs for a few weeks, so don't delay!
Click the link below to start.
moves around the country every year in order to give members a different attraction to visit and to make sure they can attend an AGM that's reasonably local to them every 2 or 3 years. 
This year's took place on the concourse of the excellent Coventry Transport Museum.
http://www.transport-museum.com/
The gleaming black example, a rare 3-speed manual column change with overdrive, and its fantastic red interior attracted a lot of favourable comments. 
Mark has owned it since 2013 but credit must also go to fellow member, Tom Ward, who had the car restored by marque specialist Richard Martin in 2011 after rescuing it from being used for banger racing.
Steve's brother Martin contacted the club earlier this year to say that when sorting through his brother's things he'd identified a number of COOC related items and felt his brother would like the club to have these and distribute them amongst the membership. 
Steve was a pre-Farina enthusiast who'd owned an A50 Cambridge and A90 Westminster so his extensive collection of literature, memorabilia, spares and models was based around these two cars. 
The COOC committee decided to auction them off to members present with all bids starting at 50p, the aim being to give members a chance to buy things that perhaps in the normal way they could not afford. Bidding was enthusiastic, and over £100 was raised for club funds. 
Most importantly the items went to members who will cherish them and in many cases knew Steve and remembered his passion for the early 'cow-hip' Austins; surely what he would have wanted.   
COOC members hold up they items they have purchased at auction.
The Cambridge Oxford Owners Club Isle of Man Tour 2015 
Saturday July 25th 2015 until Saturday 1st August.
The year's COOC tour, organised by club secretary Steve Turner, was to the Isle of Man and 34 classics, took part making it the largest so far.

Although the majority were COOC vehicles, members and guests bringing other vehicles included an E-type Jaguar and Austin Devon van among others.

The furthest travelled prior to the tour actually starting were Robbie Anderson, who drove from the Shetland Isle of Whalsay in his MG Magnette MkIV and brother and sister Lenny and Jan Sebel who brought their Wolseley 16/60 from, Pijnacker, near Delft, in Holland
COOC continues to enjoy strong support from its membership for events and tours. 
The club's national rally will be held at the Royal Air Force Museum, Cosford, on Sunday September 6th and the club would be pleased to welcome any enthusiasts to come and look at the cars on display. 
We take vehicle security very seriously and strives to help members keep their cars safe.
I'm pleased to announce that we now have a GPS Tracker solution at a fantastic price!
The 303 ProFleet GPS is a small unit, about the size of a pack of cards which contains a GPS satellite receiver (as used in SatNav devices) and a mobile phone SIM card.
The unit can be easily be hidden in your car and wired into a permanent live feed. 
It sends a GPS location every few minutes to a secure website, to which you have a personal login.
This website shows your car on a map and you can also look at historical information about your trips and even speeds over the previous 90 days!
We've found the accuracy to be within 10 meters and it even works whilst hidden inside a garaged car.
Not only can you track it on a website but if you call the SIM card from any smartphone (iPhone, Android, Windows Phone or Blackberry) it will reply with a SMS Text Messsage to your phone.
This text message tells you the status of the device and gives a link to a Google Map to show where it is.
As mentioned, the unit is wired into your electrics, this is an easy DIY job, but it also contains a rechargeable battery which lasts 24 hours. So, if your car battery is removed the unit will still work on its own power and will even send you an SMS alert when the battery gets low.

Imagine the worst case scenario - your car is stolen and taken to a yard to be dismantled.
The GPS is continually updating its location whilst the car is moving.
If the thieves start to strip the car and remove the battery, the GPS runs on its own power for 24 hours and even if they find and destroy the GPS it has still recorded its last location.
The pack you receive is pre-registered to you and gives you the website address, username and password.
A mobile phone SIM card is included with £5 credit loaded, which should last over a month with normal usage.
Typical costs are 15p per text message if you want to track from your smartphone. If you're happy to track via the website then the cost of mobile data on the SIM card is only pennies per day. 
You can top-up the SIM card on-line and even set it to automatically top itself up if the balance falls below £2
This really is a device that you can install and forget about - until you need it!
The cost?
The full kit with wiring harness and SIM card normally retails at £64.99
COOC members receive 10% discount.
For more information and your personal discount code, please email eddie@farinaforum.org
You can learn more here - https://www.rewiresecurity.co.uk/gps-303-fleet-car-vehicle-tracking-device-coban 
BUT - remember you need your COOC code to get the discount.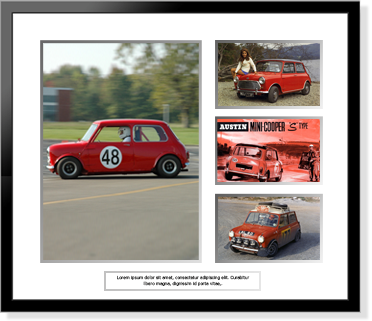 The Archive of the British Motor Industry Heritage Trust is home to an exceptional Photographic Collection, charting the history of the motor industry from its very beginnings in 1896 to the present day. 
Now, you can find over 1000 new images which have recently been added to our extensive online photographic library at www.motorgraphs.com. 
Available as a framed print, canvas or collage, these photos make an ideal Christmas gift for those who love British motoring. 
You can choose from a wide variety of British marques, from the sporting heritage of Austin Healey, Triumph, and MG to the nostalgia of British classics such as Rover, Land Rover, Austin, Morris, Riley and Wolseley. 
There are also attractive advertising posters, and colourful scenic pictures from the 1950s to the 1980s, just the thing for that difficult-to-buy-for dad or grandad.
For more information about the Heritage Motor Centre please visit www.heritage-motor-centre.co.uk or call 01926 641188.
Wolseley 16/60  564UXN, was stolen in Aveley Essex, on Tues night, 11/11/14
It was stolen from a workshop who were carrying out some welding.
The o/s front wing was removed and a blue one put in place (no headlamp in it)
No drivers seat, so must have been taken on a low-loader or recovery truck.
Please contact 07877 910479 or local police if you see this car.